Billabong Gallery Presents Kris Chau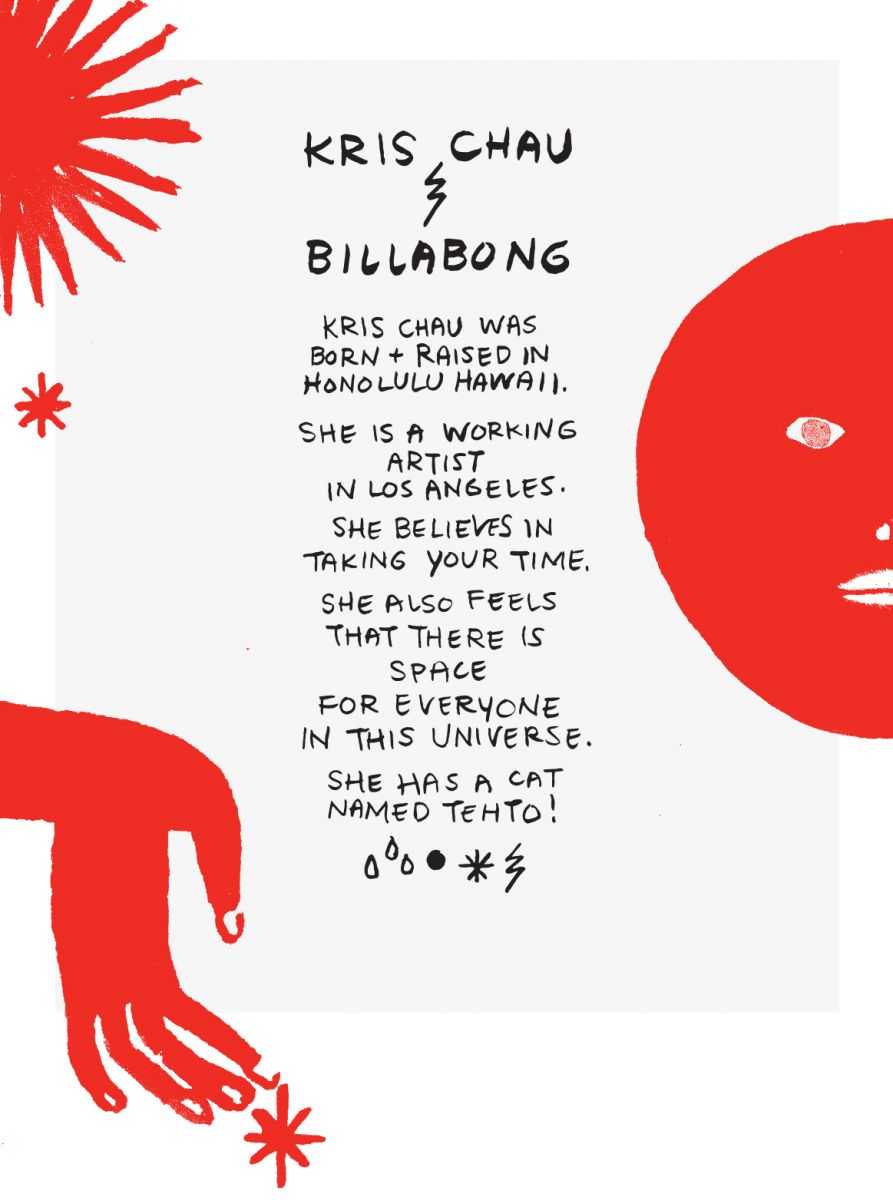 Our latest Billabong Gallery Collection presents artist, Kris Chau. Originally from Honolulu, Hawaii and now living in California, Kris is an artist who believes in taking your time and feels there is space for everyone in this universe.
Read more from our Q&A with Kris below and shop her latest collection...
How long have you lived in LA? And where do you live? I think I have been living in LA for about 6 years now and I live in Echo Park.
Tell us a little bit about your upbringing in Honolulu, Hawaii and how that has influenced you as an artist…I grew up in the mountains of Makiki a walking distance away from Ala Moana Beach and Hanging out at the the lower level of the mall. I was going into the Surf Shops to look at T shirts and things I couldn't afford. I come from refugee parents from Vietnam so I didn't grow up eating musubis and plate lunches and I wasn't allowed to speak pidgin at home. Growing up in Hawaii I wanted to desperately know why I wasn't satisfied with a beautiful beach day and a land full of flowers. Now looking back, I realize Hawaii taught me that's really what all the goodness is in the world is actually about, and I got to grow up in that world. A world where there are flowers drawn on your telephone booths, and the rainbow is a serious matter and is on your license as well as the college football team. Ua Mau Ke Ea O Ka Aina I Ka Pono / If you Take care of the Land it will take care of you. I'd like to think that all that is a big big part of my art now.
When you're not creating art or spending time with your cat Tehto, what are you doing with you 'off time'? Well I live a rather monastic lifestyle. I don't really drink or go out maybe ever. Partly because I literally am living off of my drawings and paintings, so that's not a big going out budget as well as I live in a big major city. So there is a lot of baking bread, biking to the farmers market, and thinking. I'm pretty sure watering all the plants in my house takes about an hour and a half. Making art isn't as romantic or glamorous as anyone would like to think, it's rather cavewoman and monk like in many ways. Which I think is romantic!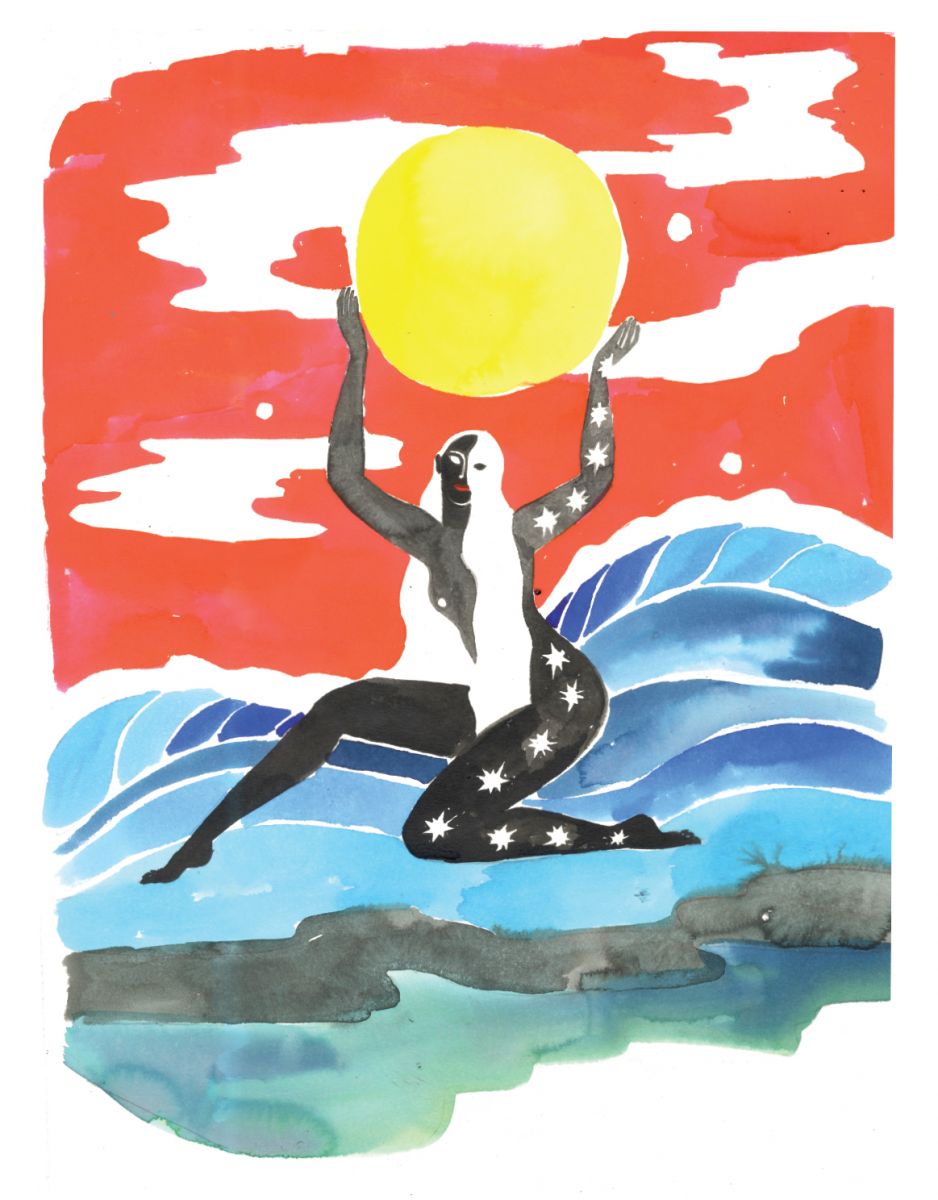 Where did you find inspiration for the Billabong Gallery x Kris Chau Collection – what motivated some of your favorite pieces? Many of my favorite pieces in this collection involve all the wild wicked and good god wahine's of Hawaiian culture with a dash of Gustav Klimts mermaid painting. Klimt's mermaid paintings are mostly beautiful floating heads and I always imagined mermaids as being a little bit scary. The Hawaiian goddesses were always fighting and creating drama all the while being strong and exerting power as well as looking after the Hawaiian people. Also just the ocean and skies is a big part of my language. We are all stewards of this land, and we need to pay homage, respect and care for this place we share with the plants and animals.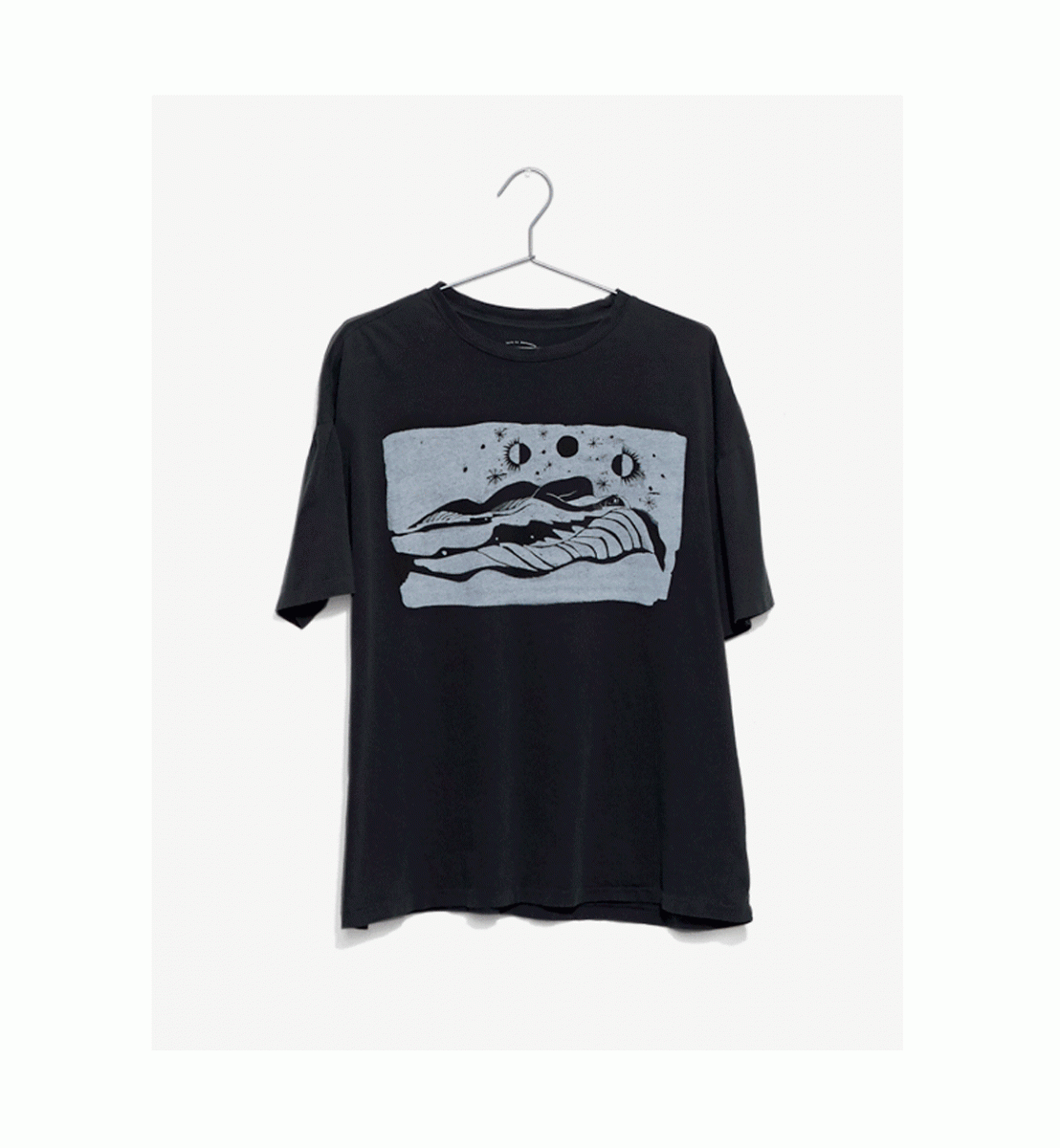 What's your creative space like? How does it help your creative process…? My Creative Space is a converted Half Garage with some dry wall and a painted cement floor. But I would say my whole living space is pretty creative. There isn't very much that isn't meaningful or useful. Down to my dust pan and dust brush from a family in Copenhagen that I trucked back in my suitcase. The plants clean the air and make the inside also the outside and there is a lot of light everywhere. Very important! To see colors right.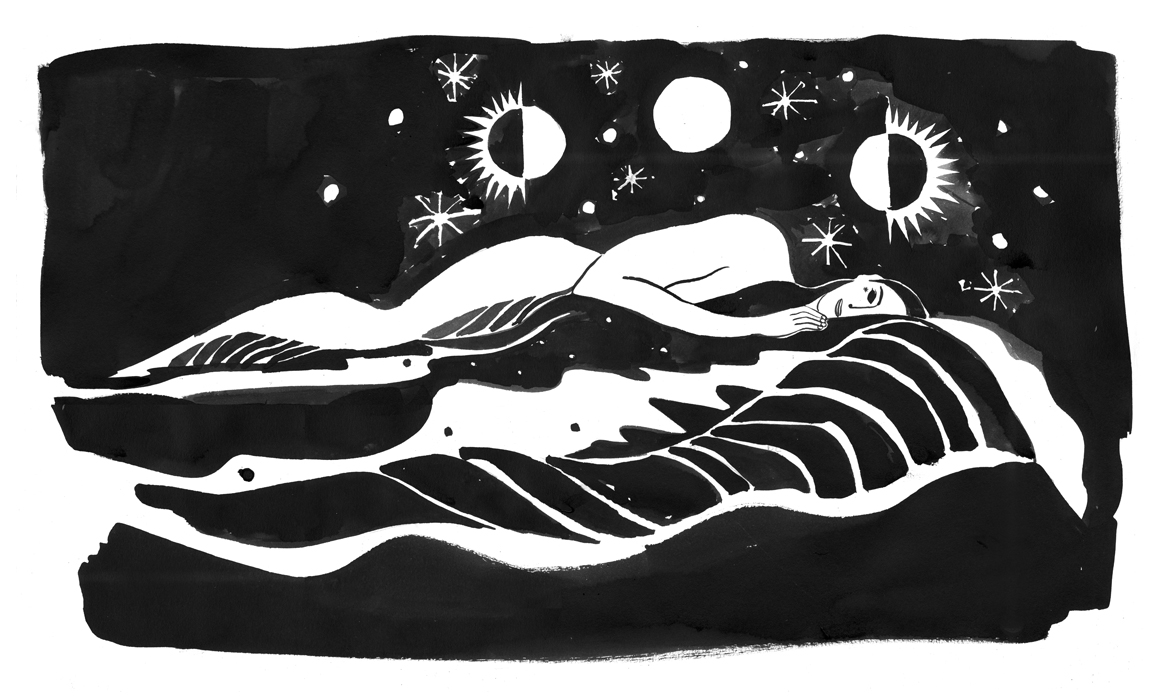 What's a bit of creative advice you wish to bestow on young girls looking for a little advice? You don't need to make art to be creative. Being creative simply means you have a bigger vision than what the world presents you. Creative accountants are very important! I also had a dentist that loved building the porcelain crowns to perfect match the color of your teeth. Doing more than just your 'job' and making meaning when maybe there wasn't one before, is all you need to build a creative life. No money, no schooling, no connections, just a big spirit. The system loves crushing spirit, so ask questions, and align your work with your heart and values.
Do you have any exciting creative projects in the works right now…? I have an upcoming show at Subliminal Gallery in December with my personal Art Shamans Ako Castuera and Hellen Jo! Also just being able to watch my personal language grow as well as the people who support the vision is a privilege everyday.